Serving Seattle and the Eastside
First Choice is truly a one-stop shop for all your tile and grout needs.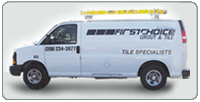 We're a locally owned business that sincerely believes everybody benefits from sharing and helping others. Making sure people get their money's worth is important to us. We've seen many jobs that could have been avoided had the job been done right the first time. We feel it is only right for companies to deliver on their promises. We will always make sure you are 100% satisfied before leaving any job site. We strive to meet your needs in a field that requires efficiency, speed, and a strong work ethic.
Your First Choice
We have a passion for the artistic quality of truly exceptional tilework. We treat every job as if it was our own home and every job is treated with the same level of professionalism. All work sites are cleaned before and after, leaving you with a beautiful new look and a clean environment.
We don't nickel and dime our customers, because we know that long-term relationships aren't built that way. We love our job and so we give you a great deal with exceptional service. We work with your schedule, we're friendly and we have extensive experience. So whether you're a homeowner, looking for a quality repair or cleaning, or a business owner looking to revitalize the quality of your investment, look no further than First Choice.
Over 1,500 jobs completed!
In business for over 8 years!
Our Process
Free Estimate
We'll give you a detailed estimate of the timeframe and cost. We don't do over the phone estimates either, we'll come on-site to ensure everything is accurate.
Schedule Work Date
We can work with your schedule. We work with many technicians and on average, most jobs take less than 5 hours total!
We Begin Working
This may be the start of the actual work, but we don't finish until you're 100% satisfied with the final product.